Stand-up paddle (SUP) consists of standing up on a board and moving on the water rowing with a long paddle, fun and accessible to all, including beginners. Our generously sized SUP boards (length 3m10, width 86cm) offer good stability on the water for the uninitiated.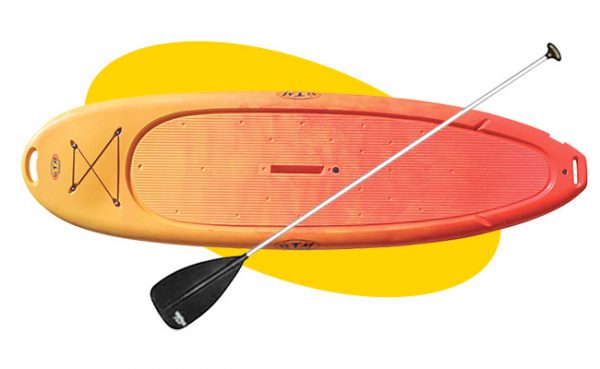 Stand-up Paddle, another gliding sensation
We mainly offer « Campagne – Le Bugue » route (5km) at 14 €, the practice of this activity requiring more physical effort than canoeing or kayaking. That must remain a pleasure.
For those who know it and want more, you can visit our page « rates and routes » then contact us. The rental of "SUP" is at the price of the single-seater kayak.
Booking is recommended in July and August
Some tips for a good practice of the "SUP" to uninitiated:
The practice of this glide is in on your own without an instructor.
Move away from the edge by pushing the board to have a good level of water. Put one knee, then the other … You can do the first meters on your knees, the paddle is perpendicular to the board in front. You put one foot, then the other while remaining bent. You get up quietly keeping the paddle perpendicular to the board and looking at the horizon.
Spread your feet, keep your knees a little bent and paddle … Let's go for fun and adventure!
Safety instructions :
Know how to swim.
From 12 years.
Wear your attached buoyancy aid.
Have closed shoes (if necessary, we sell aqua shoes for €10).
Navigate in the middle of the river.