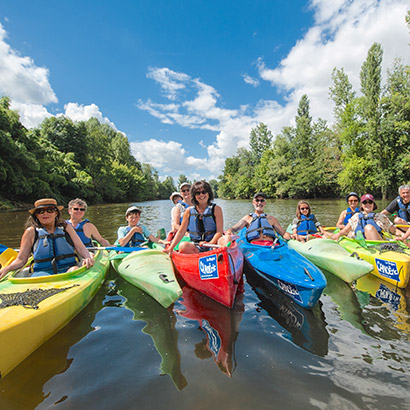 Canoeing, kayaking & Stand-Up Paddle on the Vézère and the Dordogne
Live a unique multi-sensory canoeing or kayaking experience alone, with family or friends

Embark on a free descent of canoeing or kayaking. In the heart of Black Perigord, our Canoe base is ideally located in the city of Bugue, starting from many family and nature activities.
Our 5 courses from 5 to 26 kilometers allow you to canoe at your own pace, on the Vézère and the Dordogne ! Go on a sporting descent or let yourself glide along the water, to discover the splendours of the Vézère Valley and the breathtaking landscapes along the Dordogne Valley.
Through Montignac-Lascaux, Saint-Léon-sur-Vézère, Les Eyzies, Limeuil; the Vézère reveals an exuberant nature mixed with prehistory …
You leave whenever you want from the CANOËric base in Le Bugue and discover pleasantly open landscapes along the Vézère and Dordogne rivers !
Discovery of Dordogne with the flow of the water
The best on Vézère and Dordogne!
Le Bugue - Sors via Limeuil
2h of stroll
10 km
For all the lovers of Wildness and Freedom, for those who like to travel off the beaten track …
Comfortable seats!
Our canoës and kayaks are equipped with a backrest on the seats for a more comfortable descent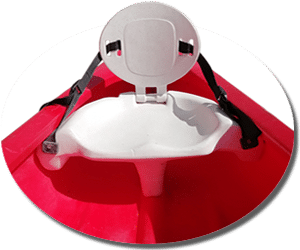 Rather Canoe or Kayak ?
What are the differences between a canoe and a kayak?
You will also find answers to many questions.
---
Our small pluses

Snack
Snack bar open all day !

Idyllic setting
Come oxygenate yourself!

Dogs allowed
welcome to your pets

Free car park
Available right at our place

Open every day
until 6pm
Our customers are talking about us ...
Excellent first canoeing experience : Very helpful and friendly staff! We took two young children and the course recommended was perfect. We went from Campange, and it really was a beautiful trip! For our first time on a canoe we were given great advice and nothing seemed to much to ask.
Perfect four day trip : We have just spent four days kayaking with canoeric and it was absolutely fantastic. Eric and Chantal are super friendly, helpful and organised. Highly recommend.